How do I use the Traxsource Download Manager?

The Traxsource Download Manager allows you to download and organize your recently purchased tracks with one click. No more incomplete or lost music, easily see the status of all your downloads. Organize your music like never before through the Downloader's folder naming preferences. This feature allows for full control of how you store and search your music library.

1. Download and Install the application found here.
2. Sign in using your Traxsource username and password. The Download Manager will then display all tracks that are currently waiting in your queue for download.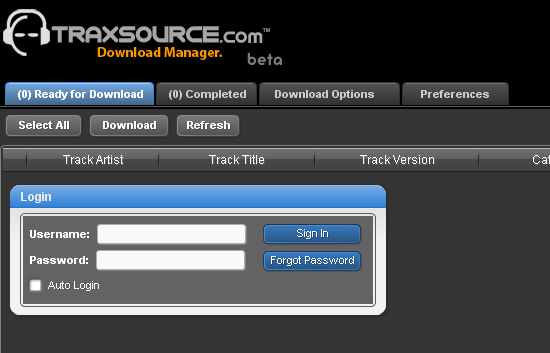 3. Choose your Download location. The Download Options tab allows you to specify your Preferred Folder Location where your downloads will be stored.

4. Choose Your Folder Structure
If you prefer to save your downloaded tracks without sorting them into folders for artist, label, etc. you will want to select Communed/Flat. Otherwise you can specify the folder structure by selecting one of the preset structures or creating your own custom layout.

5. Choose your File Naming
Select from one of the available naming presets, or create your own with the custom option. This can be done by clicking 'custom' and using the drop down menus to specify the order in which you would like your track information to be displayed.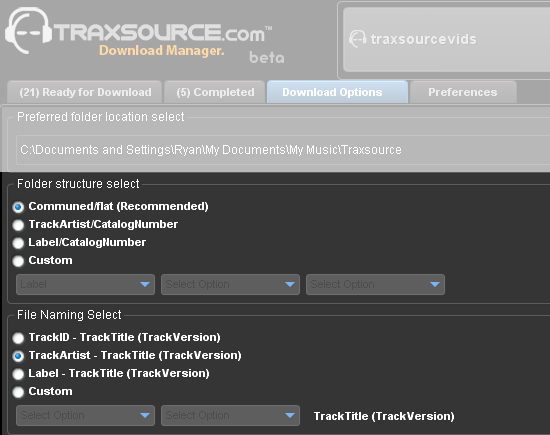 An example of your settings will be displayed in the file and folder preview.
6. Click "Apply Setting" for structure to be saved.

7. Choose your Downloader Preferences:

The Preferences section allows you to specify the Preferred Columns that are displayed when viewing the tracks in your queue (Artist, Label, Format, Status, Catalogue #, etc.). It will also allow you to specify general automated tasks, such as logging in, clearing finished downloads, and closing the application when downloads are complete.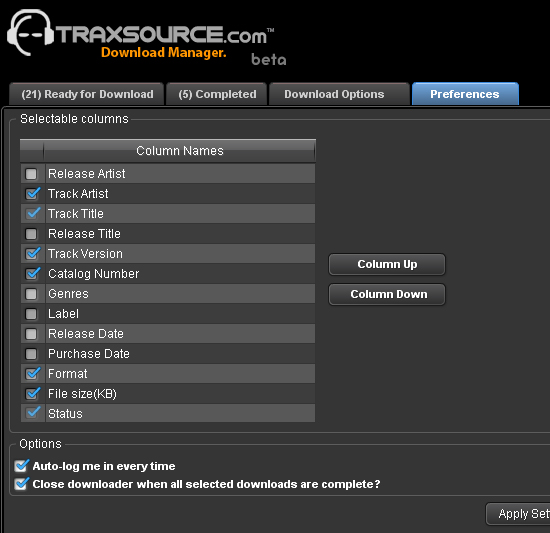 8. Download your music
Click on "Select All" button to download all your music, or choose the individual tracks that you wish to download by checking the box to the left of each track, and then clicking the 'Download' button. The tracks will begin to download, following the preferences you have set up in the Download Options tab.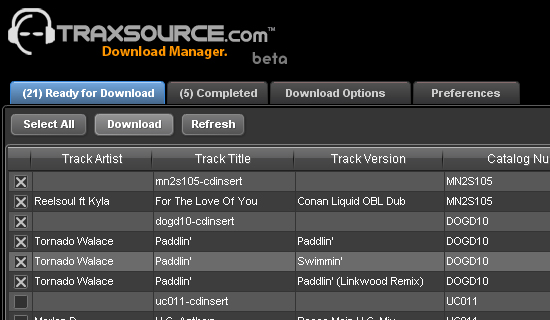 9. Re-Download (If necessary)

After a track has been successfully downloaded it will be temporarily available in the Re-Download tab for 7 days. During this time feel free to reattempt the download of any track(s) that may have been damaged or cut short during delivery. Support may also reset downloads from recent orders if they fail. Please send an email to support@traxsource.com. with your Traxsource Registered Email and Traxsource Username.
Was this article helpful?